Legendary peaks, solitude and true wilderness…
Known as the birth place of North American mountaineering, the mountains of Western Canada host a great variety of deservedly famous peaks. Here you will find an impressive collection of remote summits with routes ranging from basic glacier ascents or wildly exposed ridges to world class alpine ice faces and mixed climbs. Blessed with high latitude, these glaciated summits offer a reasonable altitudes challenge with peaks ranging from 2500m to 6000m in heights. Most Canadian peaks are secluded and sometime require several days for an ascent; this provides a rare wilderness adventure for the keen mountaineers to discover.
Summit Mountain Guides provides year around day and multi-day beginner to advanced guided Mountaineering programs in Western Canada. Our programs take place on the legendary peaks of the Canadian Rockies, the Purcell Mountains including the Bugaboos, the Selkirk's including the famous Rogers Pass peaks as well as throughout the entire Coast Mountains in places like the Waddington range or the St-Elias Mountains. Join us and leave all the logistics to the experts, we can build on your climbing background and personalize a program to suit your needs. Expand your mountain knowledge and maximize safety while climbing with a seasoned guide.
---
Classic Canadian mountaineering peaks
Below is a partial list of classic Canadian mountaineering peaks and routes. Please contact us for more information on guided programs, a specific climb or a custom trip.
Canadian Rockies Classic
Mount Robson 3954m, Kain face IV, North face IV and Emperor ridge IV 5.6
Mount Edit Cavell 3363m, East ridge III 5.3, North face of main summit IV 5.7
Mount Colin 2687m, the Traverse III 5.6, South West face III 5.7
Mount Alberta 3619m, Japanese route V 5.6, Northeast ridge V 5.10
Mount Columbia 3747m, East face II, North ridge V 5.7 W3
Mount Bryce 3507m, the South face IV, North East ridge IV 5.6, North face IV 5.7
Mount Athabasca 3491m, North Glacier route II, Silverhorn II, North face III 5.4
Mount Temple 3543m, East ridge IV 5.7, Greenwood/Jones IV 5.10a
Mount Victoria 3464m, South East ridge II, North East ridge II
Mount Lefroy 3423m, West face II
Mount Fay 3234m, West ridge II 5.3, Center Ice Bulge direct III
Castle Mountain 2766m, Eisenhower tower II 5.4, Brewers buttress II 5.6, Super Brewers III 5.9
Mount Louis 2682m, Kain route III 5.7, Homage to Spider III 5.9, Gmoser route III 5.8
Mount Assiniboine 3618m, the North ridge II 5.5
Selkirk's & Purcell Classic
The Adamants Mount Adamant 3345m, Austerity peak 3337m, Ironman 3233m, etc.
The Bugaboos Howser spires 3412m, Pigeon spire 3156m, Snowpatch spire 3084m & Bugaboo spire 3204m
Rogers Pass Sir Donald 3284m, the Swiss Peaks 3167m & Mount Tupper 2804m
Mount Sir Sanford 3519m, the North West ridge AD 5.2 & the Hourglass AD 50dgr
Mount Templeman 3074m, the South ridge AD 5.2
Glacier creek area Mount Macbeth 3048m, Cauldron 3225m & Truce Peak 3231m
Leaning Towers the North ridge of Hall peak (3040m) III 5.6 & the North buttress of Wall tower (2926m) IV 5.8
Kokanee Glacier area Gray's peak 2720m, Esmeralda 2760m & John Carter 2743m
Valhalla Provincial Park Gimli peak (2760m) the classic South ridge III 5.10a, Asgard 2790m & Gladsheim 2820m
West Coast Classic
Mount Logan 5959m, highest peak in Canada, King's trench & East ridge
Mount St Elias 5489m, the South-West ridge
Mount Fairweather 4671m, Grand Plateau Glacier to North-West ridge
The Devils thumb 2767m, Stikine Icecap area, IV 5.7
Mount Waddington 4019m, Bravo Glacier route, TD-, 50 dgr, 5.8
Mount Matier 2770m, North-East spur, PD+ 4th class
Mount Slesse 2375m, the Northeast buttress, TD 5.10a
Yak Peak 2040m, Yak Check, D 5.10a
Mount Baker 3286m, North ridge AD AI3 & Standard route
Mount Shuksan 2783m, the Fisher Chimneys AD- ice 4th & the North face AD ice
Nooksack Tower 2525m, Beckey-Schmidtke route D+ 5.8
---
Browse our guided Canadian mountaineering trips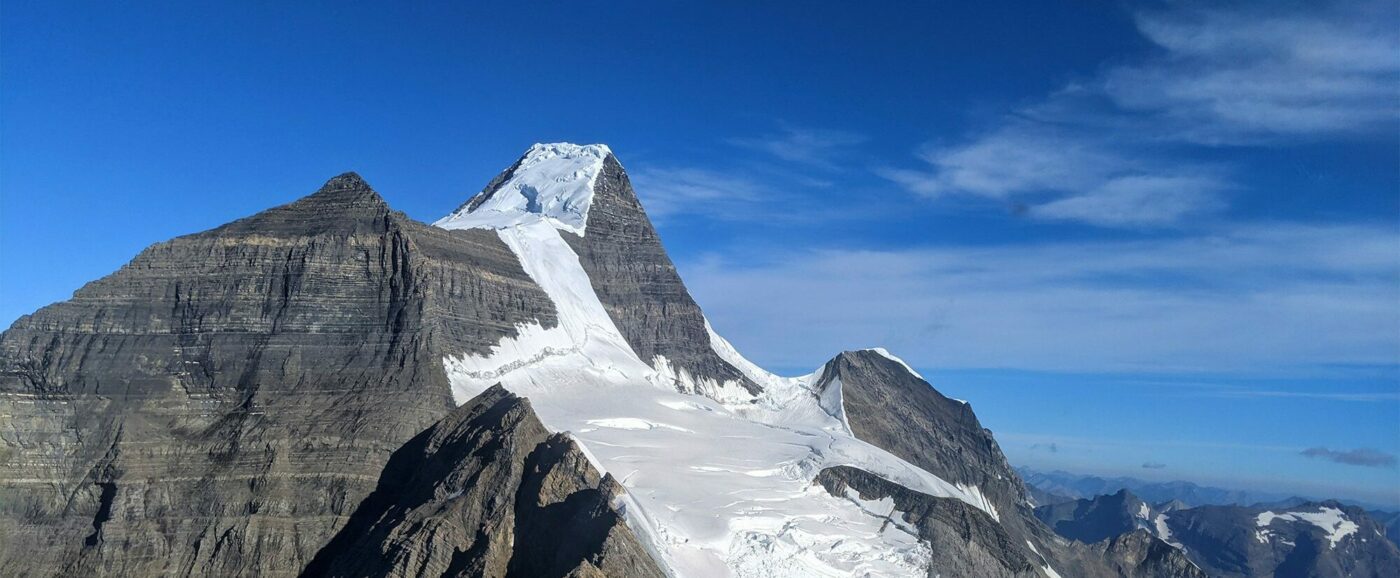 At 3,954 meters, Mount Robson is the highest peak in the Canadian Rockies. Climbers have long been captivated by its precipitous prominence and icy flanks.

While Waddington is the main goal on this trip, the area offers many alternative world-class alpine rock & mixed routes on neighbouring peaks including; Bravo Peak, Spearman Peak, Combatant Mountain, Mount Tiedemann, and Asperity Mountain.