Nelson & Rossland Ski Touring
December to April
Open groups: Jan 14 & 28, Feb 4 & 18
Cost per person (before tax) per day based on guide to guests ratio
1:1 = $550
1:2 = $312
1:3 = $233
1:4 = $193
1:5 = $170
1:6 = $154
Open group rate: $200 + gst / person
Beginner to Advanced Touring
Nelson & Rossland Ski Touring
Daily guided backcountry touring in BC's Kootenay region...
Discover legendary powder, diverse terrain and consistently deep snow found in the mountains around Nelson, Rossland, Slocan and Kaslo. Expand your avalanche and mountain knowledge while backcountry skiing with a seasoned local guide.
Our day trips take place in the stunning backcountry of the Monashee, Selkirk and Purcell Mountains.  Whether you are a beginner or advanced skier we offer trips based on your skiing background.
Our low guest to guide ratio maximize a safe and personal backcountry ski touring experience. Individuals and groups welcome! Here are a few local classics.
Nelson & Whitewater Backcountry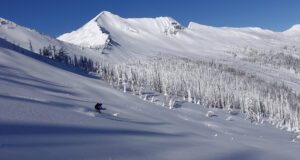 The Whitewater ski resort is a little gem known for its deep powder and easy access to a great variety of backcountry touring. It is located in the Selkirk mountains and is a 20 minute drive from the vibrant ski town of Nelson BC.
The backcountry terrain in this area is varied and accessible. The road to the resort and the ski lifts provide a speedy access to varied day touring options in four different valleys. The terrain provides a good mixture of open tree skiing and alpine bowls and interesting ski peaks. Some of the day tours we offer including Ymir Peak, Five mile basin, Kutetl creek, Qua creek & Evening ridge.
Rossland & Red Mountain Backcountry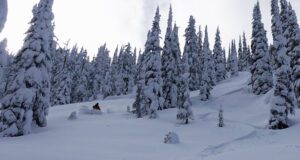 The Rossland area offers fantastic lift and road access backcountry powder ski touring. It is a 1 hour drive west of Nelson. The dynamic ski resort at Red Mountain is a mere 10 minutes from Rossland and allows for quick access to enjoyable touring terrain and great vistas.
It is infamous for fantastic tree skiing along with a consistently deep snowpack. The area offers a variety of possible tours, ridges and peaks for the keen ski tourer visiting the area. Some of the areas to explore include Record Ridge, Whitewolf Ridge, Mount Roberts and Kirkup.
Kootenay Pass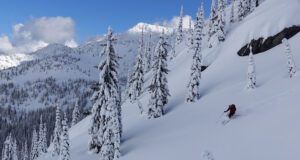 At 1780m, perched between the snowy little towns of Salmo and Creston, Kootenay Pass is the highest road accessible mountain pass in British Columbia. It is an hour away from the ski towns of Nelson & Rossland.
Kootenay Pass offers a great variety of day touring options in five different valleys. Here we will ski some of the best tree skiing in the southern Selkirks along with fantastic sub-alpine ridges boasting a great variety of open terrain. There are even some interesting ski peaks for those interested. This classic West Kootenay venue is a must for all visiting ski tourers.
Mount Brennan & London Ridge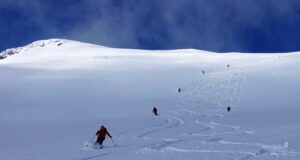 Highway 31A between Kaslo and New Denver gives quick access to some of the bigger alpine ski tours in the area. The trail-head for these tours is reached by driving 1.5 hours north of Nelson.
Both Mt Brennan and London Ridge offer vast and stunning alpine terrain, fantastically long ski descents and some of the most impressive local mountain scenery. While London ridge offers various day tour options Mount Brennan is a long day or a fun 2 days trip. To optimize your experience, these tours are best done in the Spring when the days longer, the snowpack deeper and temperatures warmer.