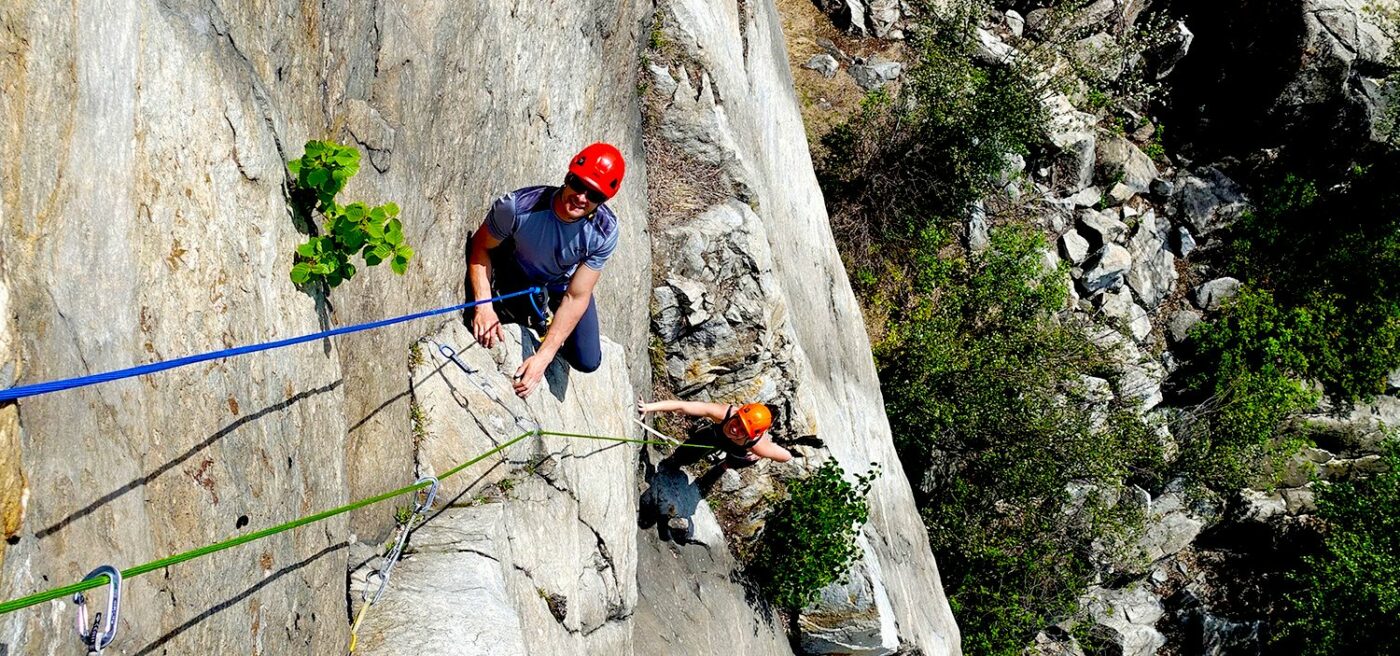 Available on demand from April to October
Open groups: Jul 9, 2022
Full day price based on ratio
1:4 $212/person
1:3 $250/person
1:2 $325/person
1:1 $550
5% GST & gratuities are additional. Some longer multi-pitch routes incur additional premiums.
Contact us for larger groups. We offer reduced rates for organized group of 4 to 6 people. Mulit-pitch routes have a lower (1:2 max) guide to guests ratio.
Daily guided rock climbs far from the crowds, this area offers variety and quality climbs...
Located in South-Eastern British Columbia, The vibrant communities of Nelson & Castlegar are home to some of the finest rock climbing the BC interior.  Their geographical locations gives quick access to fantastic rock climbing in the Purcells, Monashees and Selkirks mountains. The area offers an interesting variety of sound rock types from granite or gniess to limestone.
The climbing here is remote and offers many quality single and multi-pitch rock climbs far from the crowds. The Nelson and Castlegar areas have seen significant rock climbing development in recent years and with the publication of the new West Kootenay Rock Guide, climbers have more than 800 sports routes to choose from.
Consider some local multi-pitch routes that we have established in the community including: "The Date" on Pulpit Rock, Nelson, "Megawatts" near Brilliant Dam, Castlegar, and "Whitewater Rocks", moderate alpine rock climbing near Nelson.
Summit Mountain Guides offers various 1 to 5-day rock climbing programs in the Nelson and West Kootenay area. Some of the rock sites we climb at include Kinnard Bluffs, Brilliant Bluff, and the Waterline near Castlegar, Slocan Bluffs, Koch Creek slabs, Cougars Creek Bluffs and Skydome in the Slocan Valley and various other local crags like Pulpit rock, Woodbury bluff and Ymir bluffs.