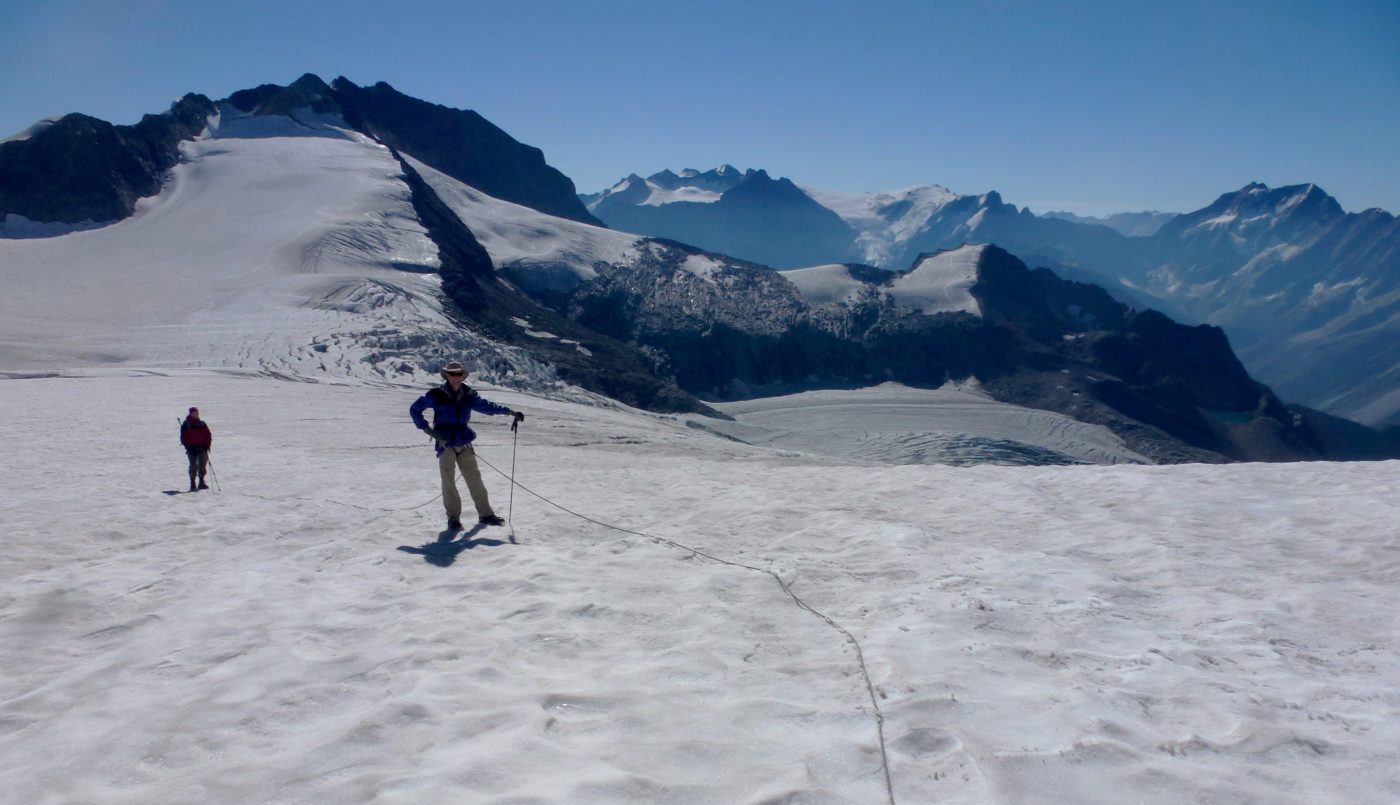 Intermediate to Advanced, route dependent
Adventure onto ancient ice with our glacier treks...
Seasoned hikers looking for additional adventures should try backpacking across high mountains and glaciers. Our Glacier treks will take you one step further. With a certified guide you'll learn how to rope up, walk on glaciers with crampons and move safely around crevasses.
We offer 2-5 day Glacier treks in various alpine areas of Western Canada and the European Alps. Glacier trekking can be a fun experience with a group or family and gives a window into the high mountain alpine terrain.
Have a look at some of our regular trips below and let us know what you think. You can also visit our favorite trails page for inspiration.
Kokanee Glacier Trek (Kokanee Glacier Park)
a 2-3day hut based trek across the Kokanee Glacier near Nelson BC.  A great introduction to Glacier trekking with stunning Kootenay vistas.
Wapta Icefield Traverse (Banff National Park)
3-5 days hut-based traverse depending on itinerary. A Canadian Rockies classic! This glacier trekking trip is a fine hut to hut trip along gentle glaciers and amazing alpine vistas.
Macbeth Icefields Traverse (Purcell Mountains)
A 4-5day tent-based traverse in a remote corner of the Southern Purcells. This area is blessed with large glaciers, deep lush valleys and high summits.
Horseshoe Glacier Trek (Purcell Mountains)
A 3-5day tent-based trek up the headwaters of Glacier Creek. This area is in the hearth of the fabled Jumbo Glacier wilderness.
Summer Haute Route, Chamonix-Zermatt (European Alps)
The 7day Summer Haute Route is a spectacular and demanding trek through the French and Swiss Alps, from Chamonix in France to Zermatt in Switzerland. You will stay in high mountain refuges and hotels each night as you follow the route that traverses below the summits of many of the highest peaks in the Alps.