Custom Backcountry Touring
Cost per person in CAD (before tax) based on guide to guests ratio
1:1 = $600
1:2 = $350
1:3 = $260
1:4 = $220
1:5 = $190
1:6 = $170
Contact us for pricing on multi-day or hut based programs
Maximum 6 guests/guides (depending on guest skill/experience)
Intermediate to Advanced, good fitness and ability to ascend upwards of 1000m per days
Custom Backcountry Touring
Secret stashes beyond the bucket list...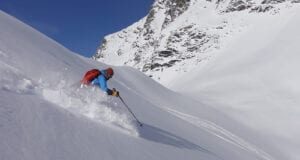 Organizing custom backcountry touring trips is one of our specialty. The world is blessed with hundreds of quality backcountry touring destinations. We have many years of experience organizing and carrying out such successful trips in remote locations of Western Canada and around the world.
The backcountry touring world is full of lesser known destinations. Because of their remoteness, these areas often display a sense of wilderness that is unparalleled to mainstream venues. We would be delighted to organize a trip to your dream destination or take you to one of our favorite lesser known touring mecca.
Most of these areas can be experienced as a day trip however, a minimum of 3 days will provide a richer experience. Contact us if you have a specific area of interest and we can share preliminary logistics. Here are some of our favorites:
Shames Mountain Backcountry near Terrace BC. North Coast Mts
Hudson Bay Mountain Backcountry. Smithers BC. Inland North Coast Mts
Whistler-Blackcomb Backcountry or Spearhead Traverse. BC's South Coast Mts
Callaghan Valley Backcountry near Squamish or Whistler BC. South Coast Mts
Duffy Lake Road, East of Pemberton BC. South Coast Mts
Coquihalla Summit, Northeast of Hope BC. North Cascade Mountains
Apex Resort Backcountry near Penticton BC. Interior Ranges
Fernie Alpine Resort Backcountry, Fernie BC. Canadian Rockies
Pine Pass & Powder King Resort BC. Northern Rockies
Haines Pass in Northwestern BC. St-Elias Mountains
White Pass in Northwestern BC. St-Elias Mountains
There are many more unknown gems, contact us with your area of interest, we will be happy to work with you and establish a trip that suits your needs. With enough notice, it will be possible for us to organize all logistics and secure permits required. In the meantime, the information below may provide valuable info to get the ball rolling. Thanks!