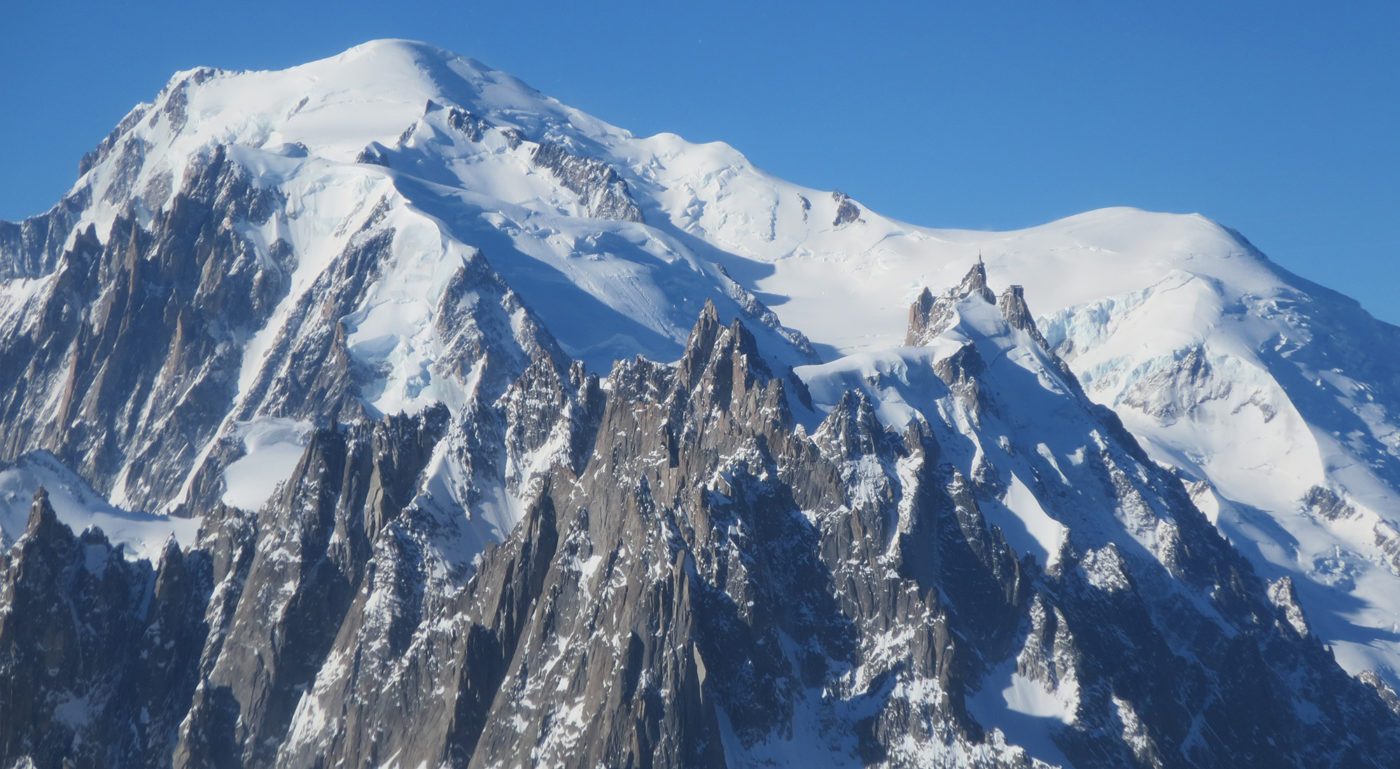 1 guide / 1, 2 or 3 guests maximum (skills & route dependent)
Beginner to Advanced, Route dependent
The birthplace of Mountaineering and deservedly the worlds greatest alpine playground...
The Chamonix valley is dominated by the majestic dome of Mont Blanc. It is surrounded by hundreds of easily accessible pointy granite spires providing world-renowned rock, ice, and mixed alpine routes. The village is charming and offers incredible vistas, cuisine along with a vibrant mountain culture.
Like most mountaineering in the Alps, climbing in Chamonix provides the luxury of easy access routes with lighter packs and overnight programs based from catered mountain huts. Whether you are interested in an easy alpine route for the day or seek a multi-day adventure from a hut, let us design a unique trip to meet your climbing goals and background.
There are more than a lifetime worth of route options & objectives in the Mont Blanc Massif. Our custom alpine programs in Chamonix range from 3-6 days. Some of the popular peaks and routes we recommend include:
Aiguille du Midi: Arête des Cosmiques (PD+, 5.6) & South Face (AD, 5.10a)
Dent du Géant: The South West Face (AD, 5.9)
l'Index: Southeast Ridge (PD, 5.6)
Brévent: La Frison-Roche (TD-, 5.10a, 200m)
Grand Capucin: Swiss Route (TD+, 5.10-)
Les Courtes: The Traverse (AD), Pente Nord-Est (AD, 700m) & North Face (TD-, 75deg)
Mont Blanc: Arête des Bosses & Les Trois Monts (both PD)
Mont Blanc du Tacul: Chéré Couloir (AD-, WI4-)
Aiguille d'Argentiere: La Flèche Rousse (AD, 5.4)
Aiguilles Dorées: The Traverse (AD+, 5.7)
For a complete list along with difficulty information, route description and trip length, click on Location below.  Please contact us if you are interested in a specific route or a custom trip.