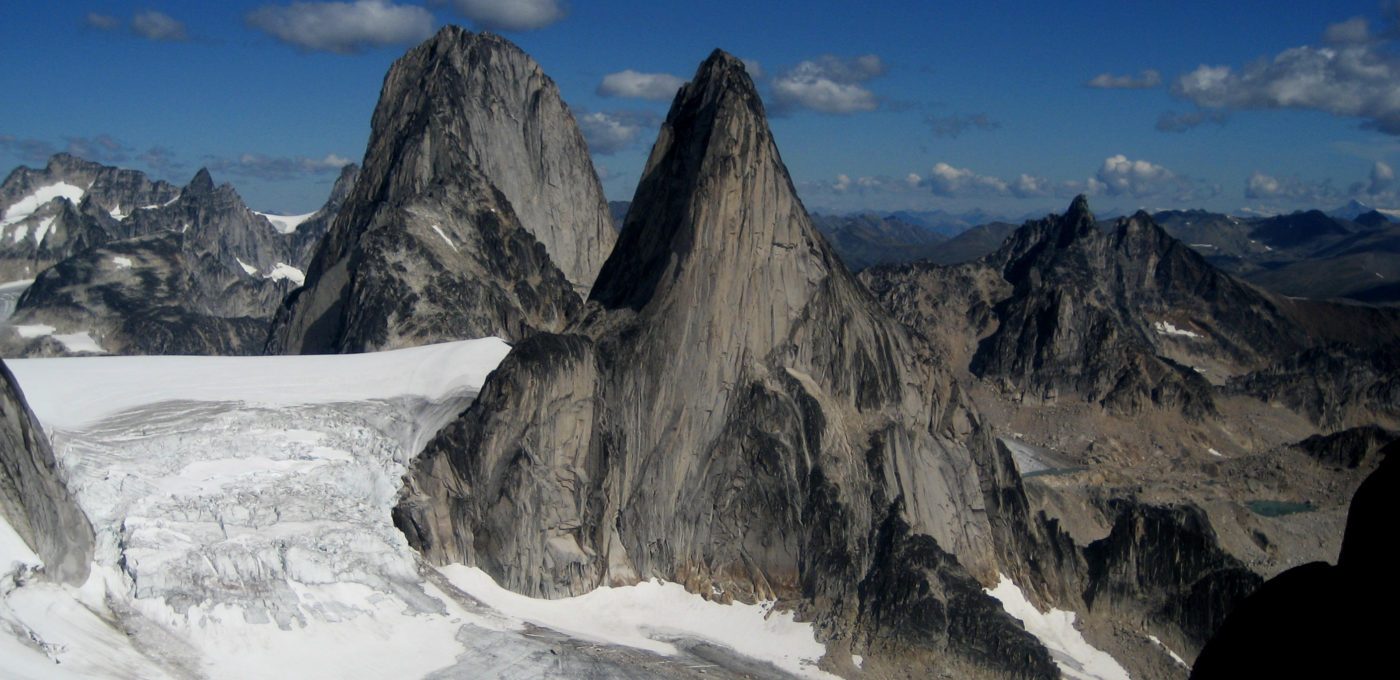 Booking Summer 2024
Ask about our local discount
3 Day Guided Program for
1:3 ratio is $775/person
1:2 ratio is $1012/person
1:1 ratio is $1725
*add days 1:3 $258, 1:2 $337, 1:1 $575
1 guide / 1, 2 or 3 guests
Beginner to Advanced, Route dependent
The Bugaboos are a magical alpine playground of inspiring glaciers, pristine wilderness and towering granite spires...
The Bugaboos of Western Canada are one of the world's greatest alpine rock climbing centers. Located in the Purcell mountains of South-Eastern British Columbia they are cluster of high and shear granite spires situated inside the pristine Bugaboo Provincial Park. Join our 3 to 5 day guided program and discover some of the best traditional alpine rock climbing in Canada.
The Bugaboos offer a challenge for climbers of all ability on sound granite. The various summits of the Bugaboos including; the Crescent Spires, Bugaboo Spire, Snowpatch Spire, the Howsers, Pigeon Spire and the Pigeon Feathers, boast fine moderate mountaineering objectives, superb scrambles and fantastic alpine rock climbs.
Some of the popular peaks and classic routes we recommend in the Bugaboos include:
The Northeast ridge of Bugaboo Spire (D-, 5.8, 12p)
Kain Route on Bugaboo Spire (AD, 5.6, 450m)
West ridge of Pigeon Spire (PD, 5.4, 500m)
East Ridge of Marmolata (AD-, 5.6, 280m)
Surf's Up on Snowpatch Spire (D, 5.9, 9p)
Snowpatch Route on Snowpatch Spire (D-, 5.8, 19p)
Buckingham Route via "The Enjoyable Way" on Snowpatch Spire (AD+, 5.8, 8p)
Lion's Way on Crescent Tower (PD+, 5.6, 6p)
Ears Between on Crescent Tower (AD, 5.7, 6p)
McTech Arête on Crescent Spire (D-, 5.10-, 6p)
The Beckey-Chouinard on the South Howser Tower (TD+, 5.10, 22p)
Due to route length and arduous approaches, most peak ascents in the Bugaboos require a minimum of 2 days. That being said, it is often possible to ascend 2 routes or peaks over a 3 day period from the Kain hut.
In general, the guests to guide ratio is route specific. A 1 to 1 ratio is the norm on longer or more technical routes like; the Northeast Ridge of Bugaboo Spire or the Beckey-Chouinard on South Howser Spire. Previous experience climbing with our guides may affect this slightly. Depending on conditions, many of the less difficult or engaging routes can be done with a 1 to 2 ratio. A 1 to 3 ratio will limit us to very basic non-technical mountaineering ascents.
For a complete route list along with difficulty information, route description and trip length, click on Location below.  Please contact us if you are interested in a specific route or a custom trip.